California Vacation: The Ultimate Guide to Planning Your Beach Trip
---
If you ask anyone about their ideal getaway, it's most likely that their answer will involve oceans, palm trees, and the sand between your toes. If you're a lover of the ocean, blue skies, and crystal waters like these, the perfect getaway is a beach vacation.
There are so many beaches worldwide to choose from, but one of our favorites is the beach in California. Who wouldn't want to spend time relaxing on this beautiful state's sandy shores?
Fortunately, we have compiled this comprehensive guide to planning your trip to The Golden State—California.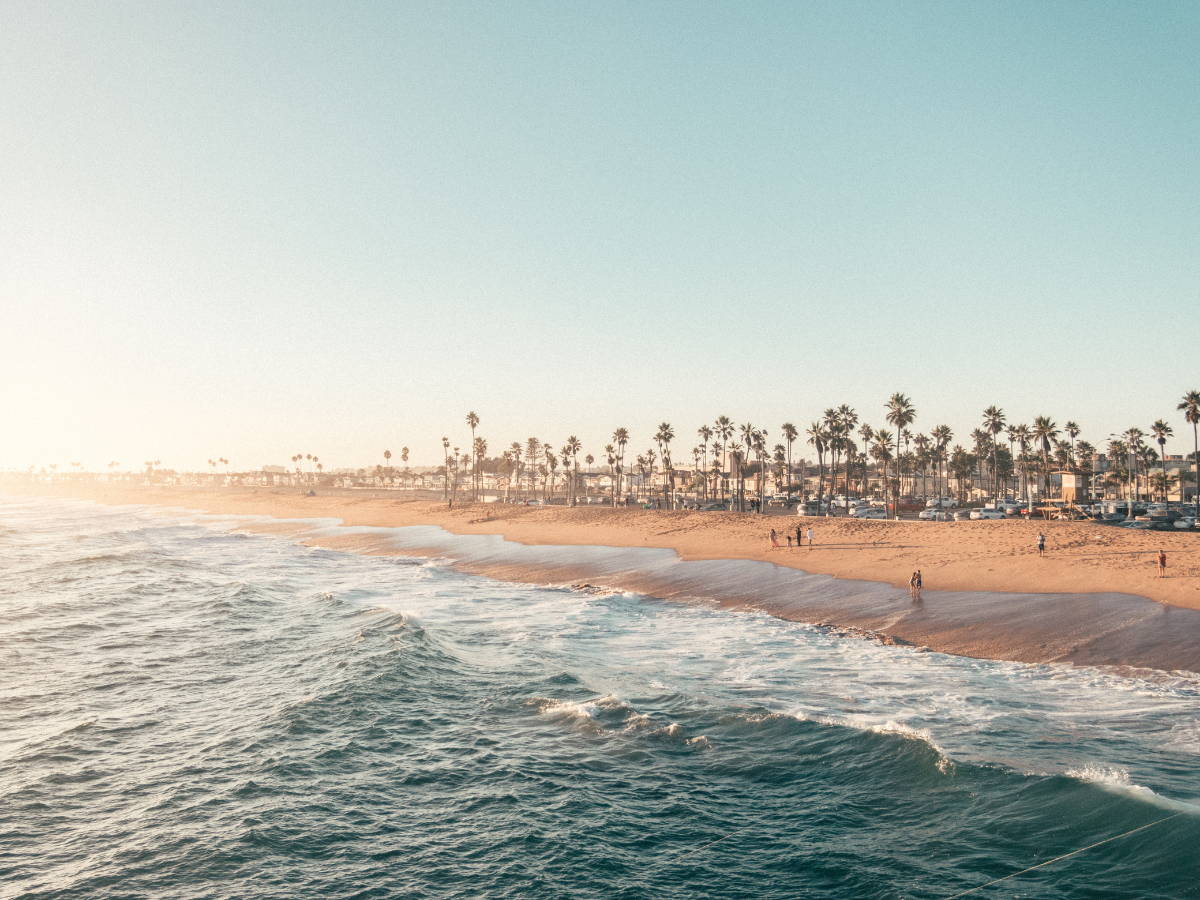 What's So Great About A California Beach Vacation?
If you're looking for a beach vacation, then California's beaches are the perfect place. California's beaches have something for everyone, whether you're more into a relaxed lifestyle or prefer the excitement of thrill-seeking activities.
California's beaches are also great for various age groups, from families to couples to groups of friends. There are sand beaches, rocky coastlines, and even a desert beach in California, making it the state with the widest variety of shorelines. If you want to go on a beach vacation with plenty to do and see, California's beaches are ideal.
The beaches of California are home to numerous iconic sights, from the Hollywood Sign to Disneyland. California's beaches also have many stunning landscapes and nature paths, so you can get away from the people and take a stroll to see these wonderful vistas.
California is also the perfect place to shop. From quaint beachside markets to outlet shopping malls, California has everything you need.
How To Choose The Best Place To Stay During Your Trip
Of course, the first thing you'll need to do when planning your beach vacation is decide which area in California you'll be staying at. You can choose a beach town or travel further afield to discover new places.
Whichever you decide to stay at, there are a few factors you'll need to consider before booking your accommodation.
Firstly, you'll need to decide how close you'd like to be to the beach. The closer you are to the beach, the more expensive the accommodations will be. How much money you are willing to spend is entirely up to you and your budget.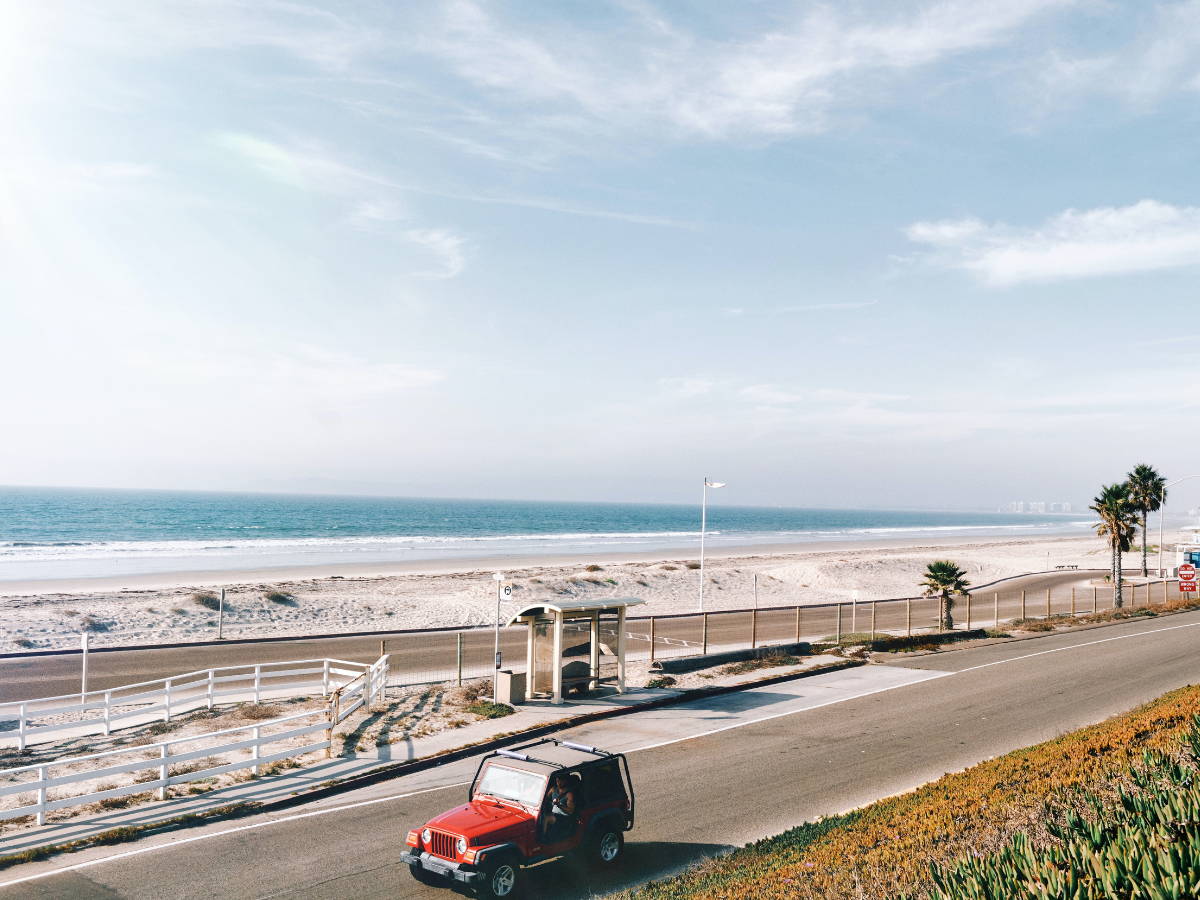 When To Go For Your California Vacation?

As California's beaches are perfect for a range of seasons, you can go anytime. However, there are certain times of year that are better than others.
If you're looking for the most comfortable time to go for a California vacation, you should aim to go during the fall or spring. Although California's beaches are also great during winter, the temperatures at this time of year are significantly colder than the rest.
Which Beaches In California Should You Visit?

If you're looking for the ultimate California beach vacation, there are plenty of beaches to choose from. Here are some of the most popular beaches in California:
Santa Monica Beach
Santa Monica Beach is one of the most popular beaches in California, especially as it's just a short car ride away from Los Angeles. Santa Monica Beach is home to many attractions, from the Santa Monica Pier to Muscle Beach, so it's the perfect place to visit for multiple attractions.
Venice Beach
Venice Beach is world-famous for its unique artistic culture and is the perfect place for people searching for something different. It's also known for its beautiful boardwalk, so it's the perfect place to stroll.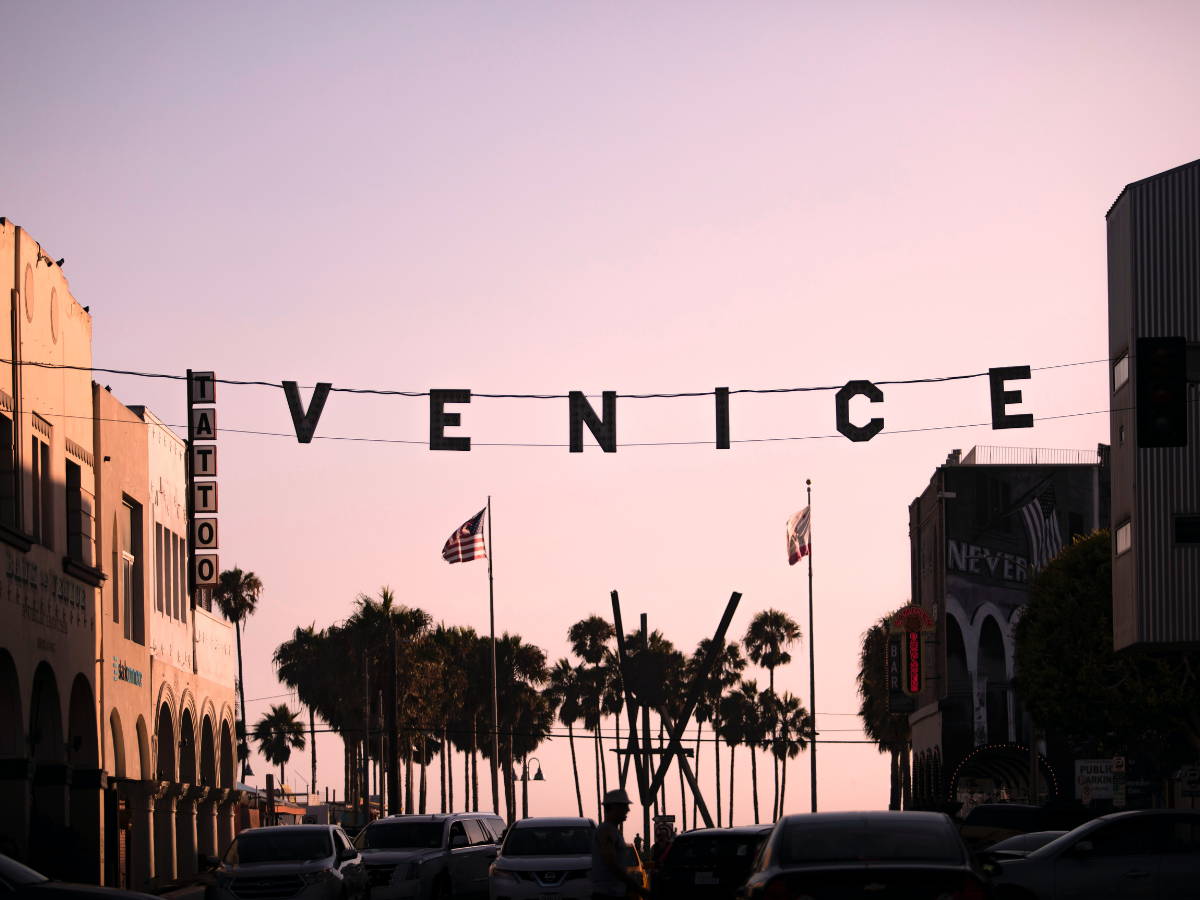 Pacific Beach
Pacific Beach is a hugely popular beach amongst surfers and is the perfect place to watch these athletes. Pacific Beach is also famous for its beautiful sunsets, so it's the ideal place to visit in the evening.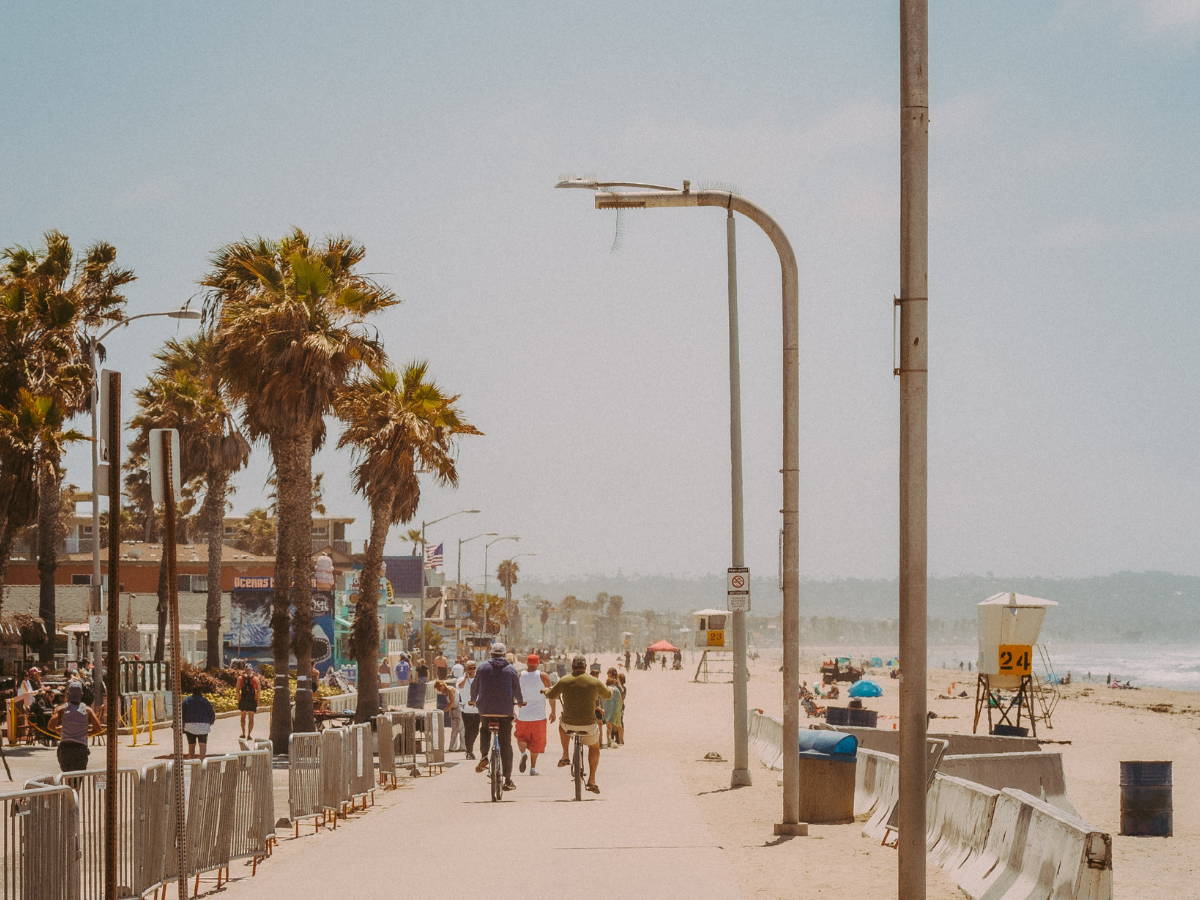 What To Bring On Your Trip

First and foremost, you'll need to ensure that you have the correct attire for a California vacation. You'll need at least one beach outfit to wear when relaxing on the sand and one more formal outfit for exploring the city.
You'll also need a sturdy pair of comfy shoes that you can wear when you're exploring the city and a pair of flip-flops for relaxing on the beach. Sun protection is crucial to bring with you on your California beach vacation.
You must always wear high-factorsunscreen when you're on the beach, even in the winter, as the sun can still be harmful and cause damage to your skin at this time of year.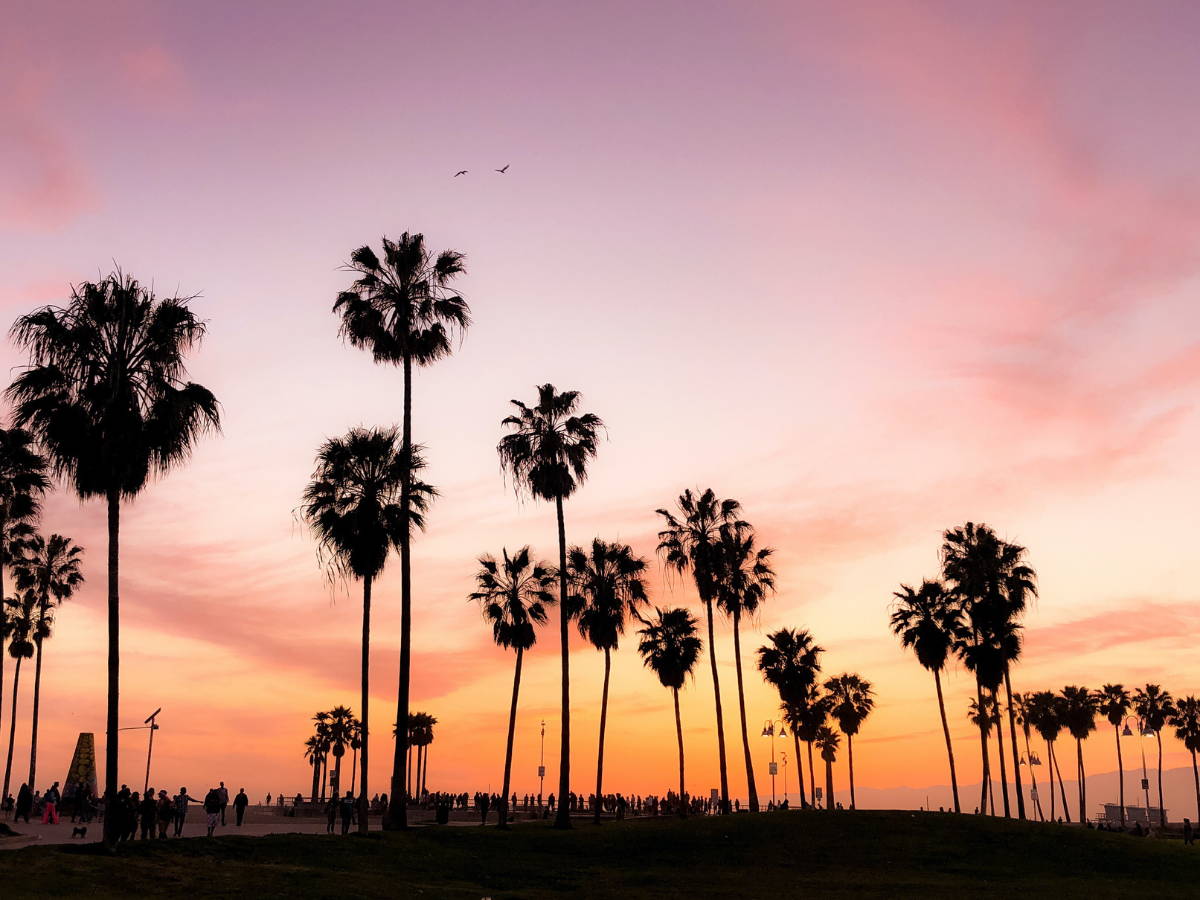 Tips For Travelling With Kids On Your California Beach Trip

Visiting California with kids can be exciting and overwhelming, so be prepared. Here are some tips to make your trip go smoothly:

Organize games and activities

Before leaving for the airport, make sure you have plenty of activities and games to keep your kids busy. You don't want them to get bored and disruptive on the plane.

Bring snacks and water

Traveling can cause dehydration, leading to fatigue, dizziness, and nausea. Plenty of snacks and water will help them keep their energy and moods up.

Wear comfortable clothing

When traveling with kids, comfort should be your number one concern. When traveling with kids, you'll want to wear clothing that's both comfortable and easy to clean.

 
If You Want More Than Just Beach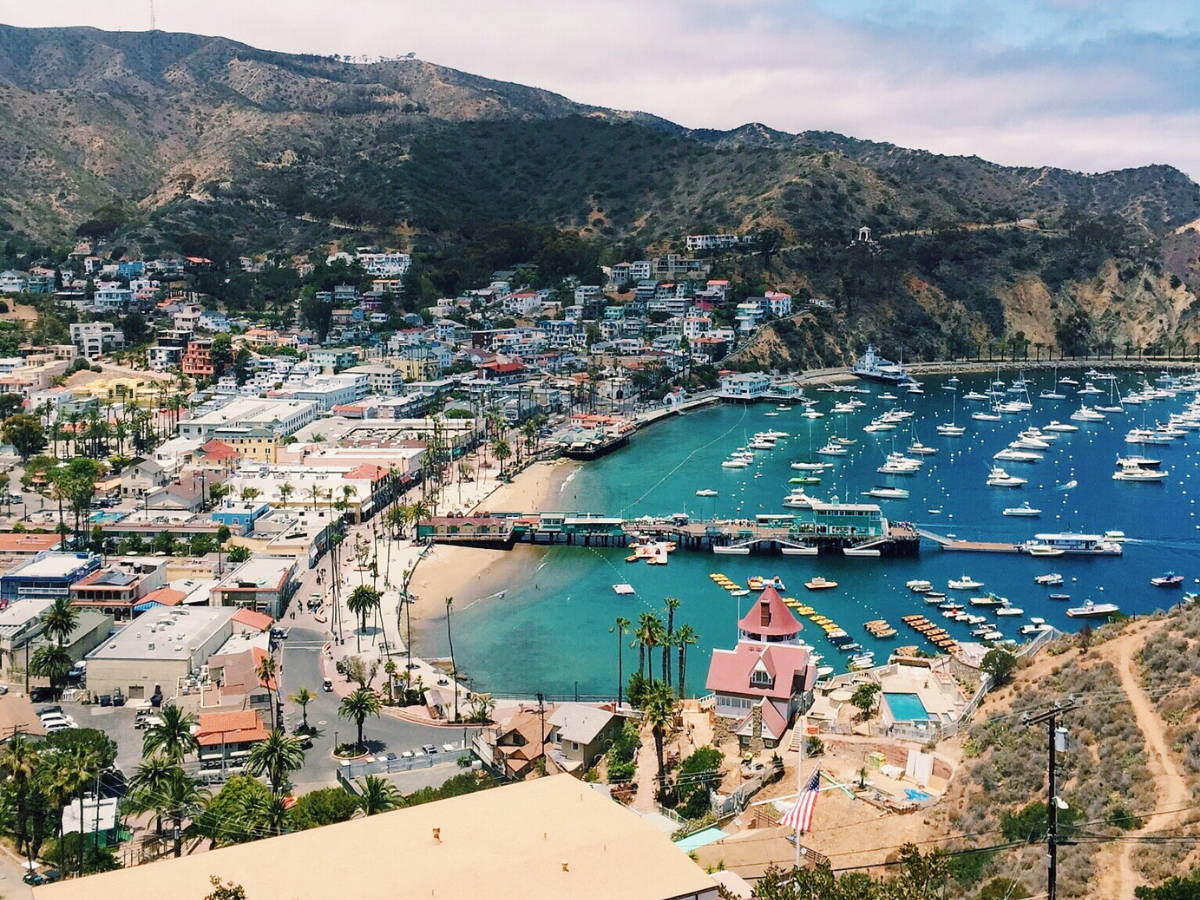 Half Dome at Yosemite
The Yosemite Valley is one of the most beautiful spots in California. The hike up Half Dome provides some of the valley's most iconic views. The hike is long and challenging, but the view from the top is well worth it.
You'll be able to see nearby El Capitan, Yosemite Falls, and a view of the entire Yosemite Valley. You can hike Half Dome year-round, but it's best to go in the fall or spring when it's less crowded. There will be fewer people and cooler temperatures, making the hike more enjoyable.
Make sure you wear comfortable shoes that you can also hike in. You'll also want to wear layers because you never know what the weather will be like. You can also purchase hiking gear and snacks at the Yosemite Village Store.
California Zephyr Train Ride
The Zephyr is a passenger train that runs between San Francisco and Chicago. It's one of the most beautiful train rides you can take in California. The California Zephyr passes through the Sierra Nevada Mountains with views of Yosemite National Park.
Zephyr is an extraordinary train ride to add to your California vacation if you want to experience something different.
If you're visiting California, you can buy tickets from Amtrak to ride the train. There are many different California Zephyr train trip options to choose from. You can ride in a sleeper car or a regular coach seat.
You can also choose the type of meal that comes with your ticket. If you're visiting California with your family, a train ride is a great way to see the state. It's primarily kid-friendly, and you can see a lot while traveling.
Lake Tahoe Vacation
Lake Tahoe is one of our favorite vacation spots in California because it's the perfect mix of water and mountains. Tahoe is surrounded by mountains, making it a great place to visit any time of the year. Lake Tahoe is the second-deepest lake in the United States.
It's a scenic lake surrounded by tall trees, mountains, and beaches. The best time to visit Lake Tahoe is from around July to October, when the water is warm enough to swim in. Emerald Bay, Tall Trees Grove, and the Sand Dunes are just a few of the beautiful places near Lake Tahoe.
If you're visiting Lake Tahoe in the winter, you can also go skiing at Squaw Valley or take the kids to see the Tahoe City Snow Bowl.
There are many places to stay in Tahoe, including hotels, Airbnbs, and vacation homes.
Catalina Island Day Trip
Catalina Island is a beautiful island off the coast of California that's perfect for a day trip. You can rent a boat or take a ferry to get there. Catalina Island is a great place to visit in the summer to escape the heat in California. There are a few beaches on the island where you can relax, go swimming, and enjoy the weather.
There are also places to hike, explore the island, and see beautiful views. If you want to do something a little more adventurous, you can ride the Wildcat, which is a zipline that you can ride from a mountain to the ocean.
There are also places to go fishing and take sailing lessons on the island. You can also visit the casino on the island or go to Avalon to explore the shops. Catalina Island is a great place to visit for a day or weekend trip from California.
Experience California With Everyday California
Experience a slice of California with us! We can take you to see one of San Diego's most beautiful areas, the La Jolla Ecological Reserve.
Everyday California is a pioneer in the San Diego area, offering a wide range of experiences fromkayak and snorkeling tours tosurf lessons,rentals,SUP lessons,surf camp,California apparel and evensunscreen!
We are committed to providing you with the best of California. Our team members are highly trained and passionate about what they do. We have extensive knowledge of the local environment and will ensure your time on the water is safe and unforgettable.
Book your tour with us now! For inquiries, call us at (858) 454-6195.
We look forward to getting you out on the water with us!
If you're looking for a beach vacation with something for everyone, then California's beaches are the perfect place. California's beaches have something for everyone, whether you're more into a relaxed lifestyle or prefer the excitement of thrill-seeking activities.
With the mountains on one side of the road and the vast Pacific Ocean on the other, California is the mega hotspot for beach camping.
The scenery is so majestic that people come from all over the world to enjoy the view.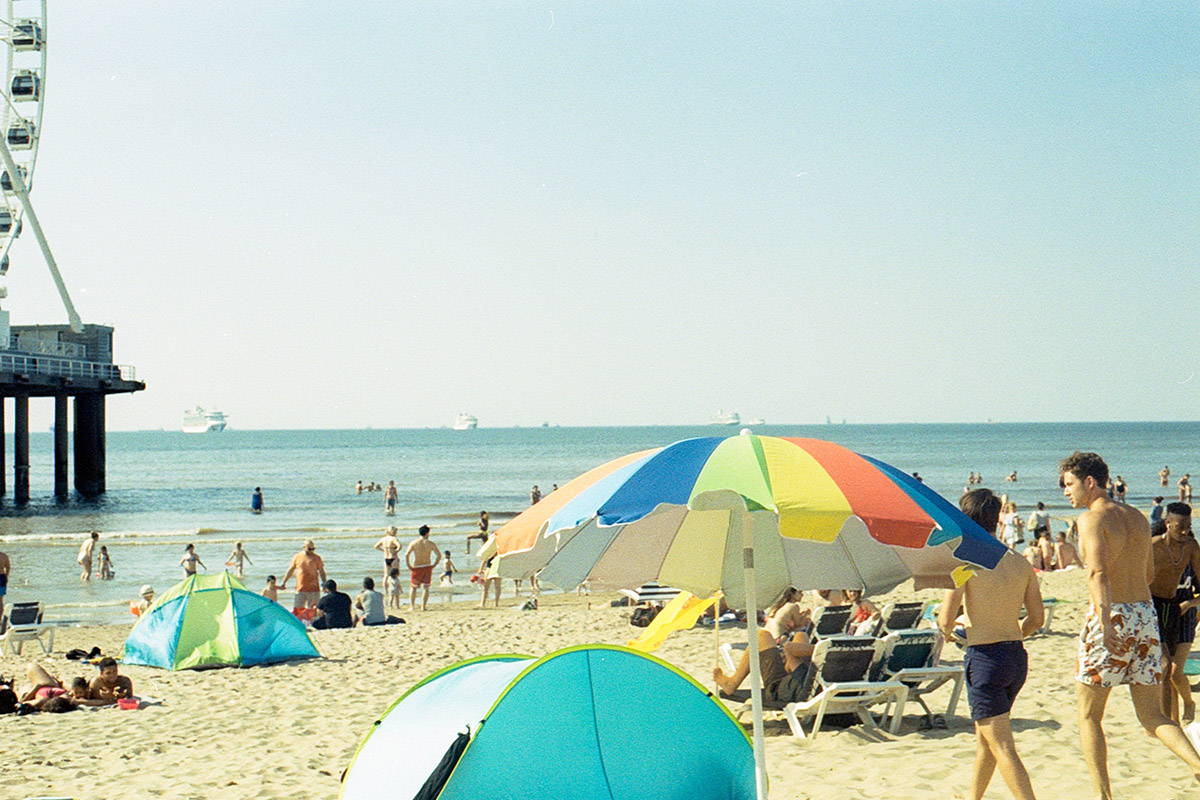 Glamping, Camping, and More, Oh My!
From RV camping (or glamping) to popping a tent up along the ocean front, you have options. This list will help you plan your beach camping in California trip.
Camping Along the Pacific Coast Highway
No visit to California is complete if you don't explore Highway 1, better known as the Pacific Coast Highway.
The winding stretch of road is the perfect path to dozens of beach campgrounds and mountain trailheads.
There are plenty of places for tent camping if you pull into a parking area and hike up the sand dunes.
If you're looking for a private campground or state park, try these surefire winners for your beach camping spot.
State Park and National Forest Options
State beaches are preferred by a lot of tent campers and RVers. They're full of hiking trails, almost always have a picnic table nearby, and are close to a gorgeous, accessible sandy beach.
Regular campers know the value of having a dump station on-site, too. These places typically include access.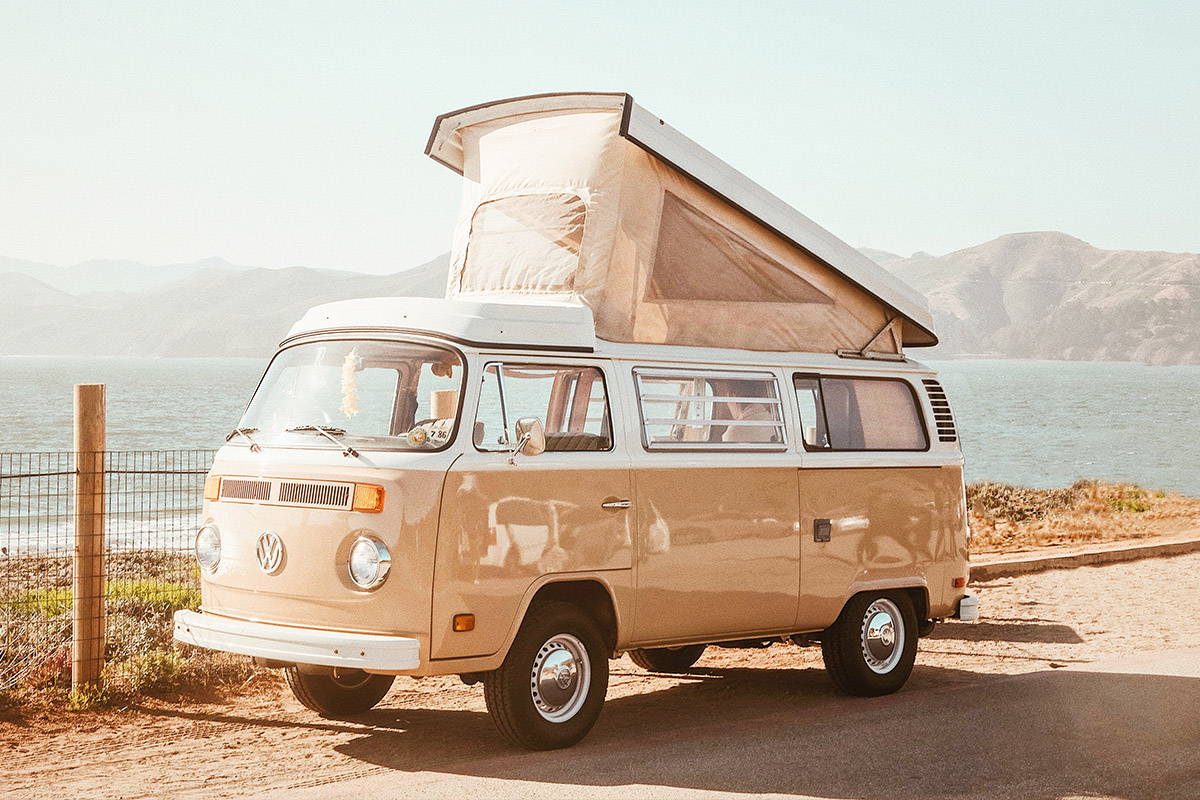 Scenic Tent and RV Beach Campgrounds
Along the PCH, check out these beach camping sites.
Point Mugu State Park, tucked into the Santa Monica Mountains. RVs and tents are allowed at Thornhill Broome and Sycamore Canyon Campground.
These are great options for beach camping in California if you're looking for something near LAX Airport.
Crystal Cove State Park in Orange County, home to 3.2 miles of beach and wide-open spaces. The campgrounds have easy access off of Highway 1, nestled between Corona del Mar and Laguna Beach.
Primitive campers can access their tent sites at Moro Campground by hiking a few miles down a trail.
Picnic tables are free for everyone, and concession stands at these beach campgrounds are open. Huntington Beach is just a short walk away.
Kirk Creek Campground is on the top RV parks list due to its incredible views of Big Sur. The campground sits on the cliff overlooking the seaside.
Its location in the Los Padres National Forest south of the San Francisco Bay area makes it one of California's most coveted beach campgrounds.
Patrick's Point State Park, officially named Sue-meg State Park, is in northern California.
If you want to do some tent camping or immerse yourself in nature, come here.
You'll be surrounded by redwoods as you enjoy the surf fishing and world-renowned scenery.
Santa Monica Bay in Southern California hosts Dockweiler State Beach for RV beach camping.
If you stay here, you'll find plenty of walking, biking, swimming, and evening beach activities.
Free Camping on the Beach
If there's anything better than camping for free along the breathtaking Pacific Ocean, we haven't found it. These primitive campgrounds are amenity-free or low.
You'll find at least a dump station nearby. Anyway, nature's beauty is best enjoyed without distractions.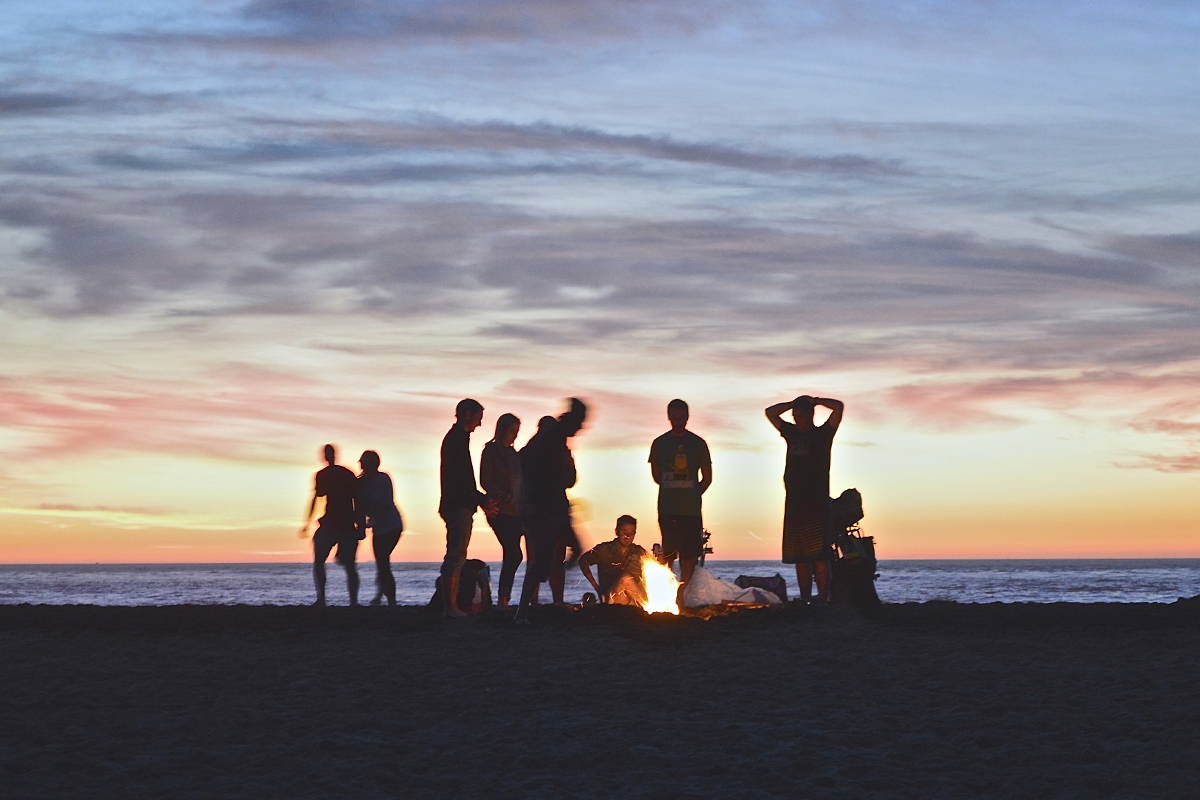 Free (or Really Cheap) California Beach Camping
For the best beach camping on a budget, these are the places to go:
Sequoia National Forest, north in the Golden State. It's first-come, first-served. Plan ahead before you go.

San Diego County hosts Blair Valley, a primitive camping ground well off the beaten path. It's an excellent choice for tenters heading to or from Joshua Tree National Park.

Abbott Creek Camping Area, also near the Sequoia National Forest, is the place to go if you want to drive your OHV without restrictions.
Because so many off-roaders use this California beach for fun, it's not for those looking for a quiet getaway.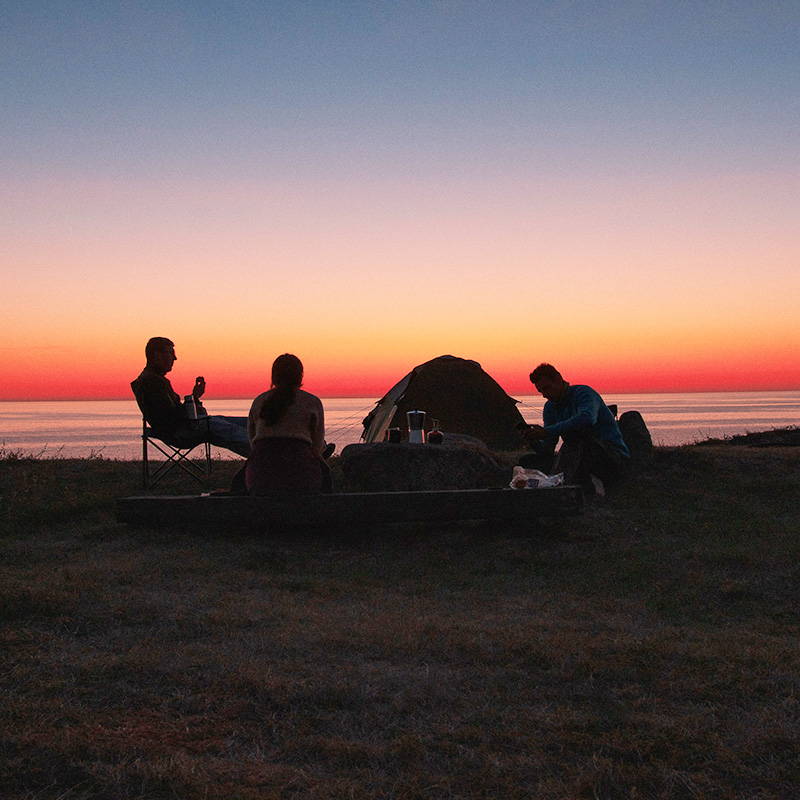 Free Lakeside Camping (It's kind of a Beach)
Southern California has the highest-rated free camping site, Alabama Hills Recreation Area. Tucked between the desert and the mountains, the views are impossible to beat.
Campers must be 100% self-contained in this primitive spot. The reason it makes it to the list here is the inclusion of Cottonwood Lakes.
You might not get to see the Pacific, but the rest of the views are totally worth the stay. (Plus, free.)
Other Top California Beach Camping Places
RV camping, tent popups, and anything in between can be done at a California state park or private campground. The key is to find one where you want to visit.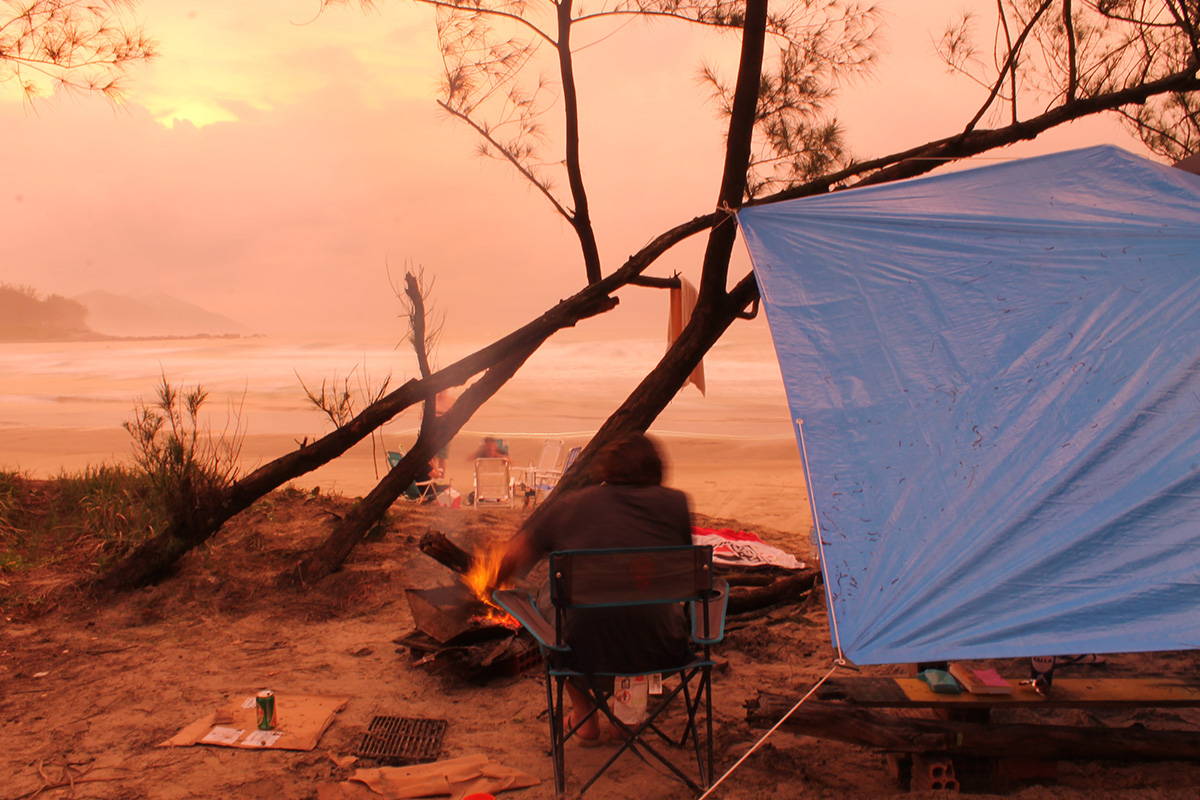 A Campground That's Just Right
From fishing to exploring, there's truly something for everyone at the beach campgrounds. If you haven't seen one for you yet, some (or all) of these might get your attention.
15 More Popular California Beach Spots
From Long Beach to Monterey Bay, these 15 sites are sure to please:
San Clemente State Beach - Halfway between Los Angeles and San Diego, San Clemente State Beach sits on a bluff over the ocean.
Full hook-ups and amenities are included in your stay.
North Beach Campground - Off Pismo State Beach, this campground is designed for public attractions.
Shops, dining, and OHV rentals are available nearby.
South Carlsbad State Beach - Located in San Diego, the beach is the go-to place for tourists and residents. Swimming, surfing, fishing, and more are enjoyed.
The bluff-top campground is always full and fun.
Doheny State Beach Doheny - Doheny State Beach is one of the most popular places to enjoy the water in Cali.
Found in Dana Point, it's not the city that attracts people, but nearly one million visitors come to see the sands every year. Many of them stay in the campgrounds nearby.
Newport Beach - Ten miles of coastline bring in swimmers and surfers from around the world.
Also designed for tourism, you'll find plenty of shopping, restaurants, and activities close to your campground at this California beach.
San Elijo State Beach - Situated on the coast of San Diego, this beach is known for its natural reef.
Snorkelers and surfers love the area, but it's not so populated that you can't get the peace and quiet you want.
San Onofre State Beach - From RV campers to bicyclists, this beach has something for everyone.
Bird enthusiasts love the aerial wildlife, sunbathers adorn the beaches, and surfers hit the waves. More than 2.5 million visitors come every year to enjoy this San Clemente beach.
Doran Regional Park - Bodega Bay hosts Doran Regional Park, which sits on the California Beach of the city's name.
It's mostly a camping destination, and RVs are allowed.
New Brighton State Beach - If your goal is to find a natural respite from the world, you found it in New Brighton, near Santa Cruz.
Although it's a popular destination, the Pacific Migrations Visitor Center on-site ensures that the wildlife and land are preserved safely. Views of Monterey Bay are so incredible, they draw people from around the globe.
Leo Carrillo State Park - A California beach full of caves and tide pools, Leo Carrillo is an explorer's paradise.
Located north of Santa Monica, the park has extensive history and culture tied to it.
Sonoma Coast State Park - Near the California beach of Bodega Bay, this park is the only one that is located by the Russian River.
You'll find swimmers, campers, hikers, and horseback riders abound here.
Refugio State Beach - A short half-hour from Santa Barbara, this state beach is popular for fishing, hiking, and picnicking. Lifeguards are on the premises most of the year.

San Diego's Mission Bay - Mission Beach hosts the newly built Mission Bay. The California beach attraction has a boardwalk feel to it, aiming to attract tourists.
Camping, fishing, swimming, and other activities are also permitted.
Silver Strand State Beach - South Bay San Diego is full of incredible views, like those found at this beach and campsite.
Clamming, shell collecting, kayaking, boating, and more are part of the experience.
Morro Strand State Beach - The coastal lines along the park create the perfect atmosphere for picnics, windsurfing, and the old-fashioned tradition of flying a kite.
Three miles of beach are connected by entrances.
There's a Beach for You in California
No matter what your goal is for your camping destination, there's a beach waiting for you.
California is a massive state, so whether you want to stay in Santa Cruz or hit the top of the border, you'll find scenery that you'll never forget.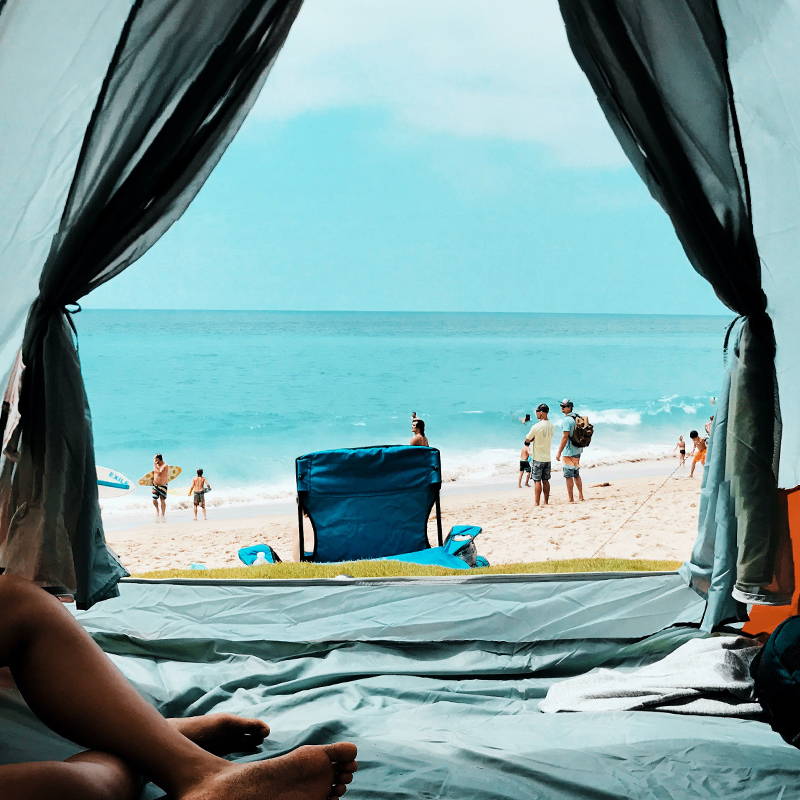 You'll find more places, like El Capitan State Beach, Sunset State Beach, and La Selva Beach, if you drive toward the ocean. Planning ahead ensures you have a place to camp for the night, though!
Comments (0)
Leave a comment