The Best Way To Go Whale Watching In San Diego

Ever wondered what a whale looks like breaching the water just in front of the seat of your kayak? Or how it feels to be deep on the Pacific Ocean in a tranquility unique to being out on the open sea?
Or maybe you're simply looking for something exciting, an experience a bit more adventurous than yet another hike (or a family walk around the block) for the holidays and into winter.
Fortunately, you're not alone. As much as the crew here at Everyday California enjoys a decent hike and a family walk, there's something truly special about spending a couple of hours searching for one of planet Earth's largest living mammals, right off the coast of La Jolla.
It's one of many reasons winter is our tour guides' favorite time of year: smaller crowds, cool but sunny weather, and, of course, the annual gray whale migration.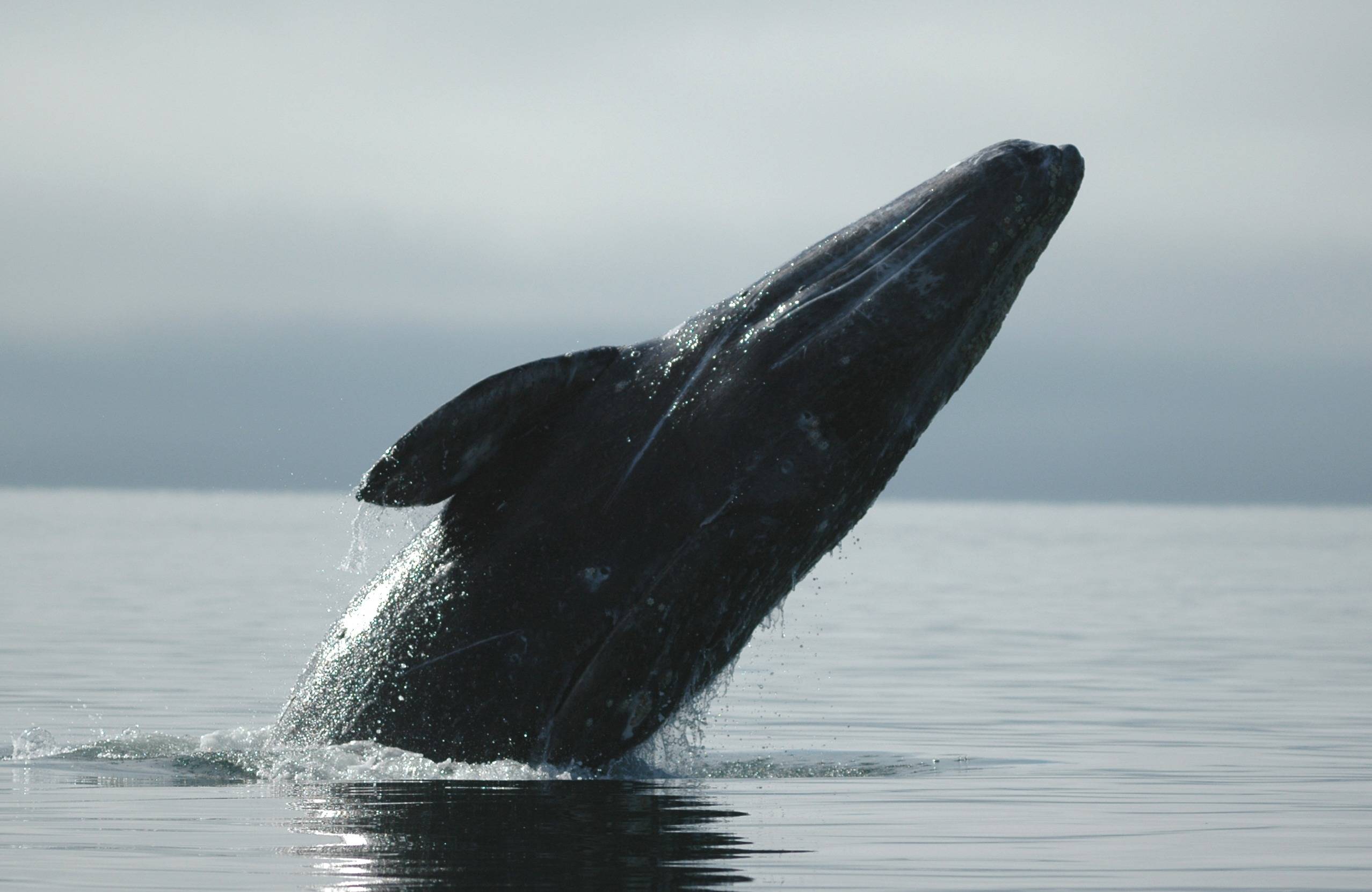 A gray whale breaches the water. Adults can weigh up to 40 tons!
What are whales doing in San Diego?
Every winter, gray whales make the longest migration of any living animal, beginning in the cold waters of Alaska and ultimately landing in the warmer lagoons of Baja California, a journey that adds up to about 10,000 miles round-trip. Once they make it south, pregnant females give birth to calves, who will remain there until they're strong enough to make the trip back north.
The gray whale migration is best seen in San Diego from December until mid-March, although depending on conditions it's possible to spot them heading south as early as November and as late as April.
While there are other kinds of whales that are known to hang out around San Diego, gray whales have some distinct features. Look for their white and grey speckled spots, a covering of parasites and other marine organisms. Adults can grow to 40 or 50 feet in length, weighing anywhere from 60,000 to 80,000 pounds. This means a healthy adult can be larger than a school bus!
How can I find them?
We're pretty lucky here in La Jolla. Since our coastline is parallel to the grey whales' migration path, we have tons of opportunities throughout the season to spot gray whales whether you're in or out of the water.
On land, your best bet is a lookout point with a wide view of the ocean. One favorite is the Torrey Pines Gliderport, an historic hang gliding and paragliding aviation site that's been active nearly 100 years. The view from the port is panoramic, making it an excellent area to hang out, take in the La Jolla sights, and look for whales. (Bonus: on a nice day, you'll see small craft pilots with hang gliders or paragliders literally jump off the edge of the cliff!)
We've also put together an article listing our favorite San Diego lookouts and viewpoints—grab a pair of binoculars and a lawn chair and check out any of our coastal picks for a fantastic view and a chance to see some whales.
But as much as we enjoy relaxing in lawn chairs and enjoying the view from land, when winter rolls around we get much more excited about getting in a kayak and going out to find the whales for a much more personal encounter.
And best of all, we've opened it up for everyone! We call it our Whale Watching Kayak Tour, and it's a truly adventurous excursion that takes you past the edge of the La Jolla Ecological Reserve, just in front of the migration path. With your guides, you'll enjoy the serenity of sitting out above the deep water a couple miles from shore, watching and waiting for these magnificent creatures to pass by.
How close do we actually get to the whales?
Based on the ethical guidelines of respectful whale watching and the laws set by the State of California, we always try to give passing whales 100 yards of space. This allows them to continue their journey unperturbed (10,000 miles is no small distance!) and also allows the group to remain safe while enjoying the view.
However, anyone who's been whale watching on a kayak can tell you that there are times when whales will breach just a few feet away from your boat, obviously not allowing you to strictly follow the 100 yard rule—which was written with powerboats in mind, not kayaks. In these situations, the best thing you can do is your best to remain out of the whale's direct path, and be thankful that these large, gentle giants have decided to pass so close.
Below we have a video we made of our Whale Watching Tour, including some highlights of when a gray whale calf swam directly toward one of our groups!
Interested in trying a Whale Watching Tour? Learn more information and bookhere, or give us a call at (858) 454-6195!
Comments (0)
Leave a comment